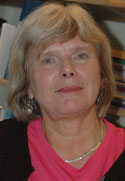 Postal address: Institutionen för socialt arbete, Umeå Universitet, SE-901 87 Umeå, Sweden
Visiting address: Samhällsvetarhuset, Petrus Laestadius väg
Fax: +46 (0)90 786 98 72
Web page: http://www.umu.se/socw/index_eng.html
Contact person: Siv-Inger Bucht, International co-ordinator/lecturer,
Since 2004 the Department has had a collaboration project with the Cauvery College for Women (CCW) in Tiruchirapalli (Trichy), Tamil Nadu, India. The contact person for the collaboration on the Indian side are Mr. Santhanam, CCW Principal, and Mrs. S. Sankari, Vice Principal.
For several years undergraduate students from the department's "socionomprogram" have gone to Trichy to do fieldwork during the third semester of their study programme. More than 300 Swedish students from the department in Umeå have done that so far. Every semester approximately 30 students go to Trichy.
Umeå students now go to CCW not only to do fieldwork in Social Work. Seminars are given to the students on many issues, to provide the students with a wider perspective of India and Tamil Nadu. Since the Fall 2008, students even go from Umeå to Trichy to write their papers during a period of 5 weeks.
In addition to this, the Dept. of Social Work has been involved in a Linnaeus Palme Exchange Programme with CCW since 2004. The exchange programme is fully working since 2004/05, every year two teachers from each country go to Umeå and Trichy respectively, and teaches about the theory and practice of social work in their home countries.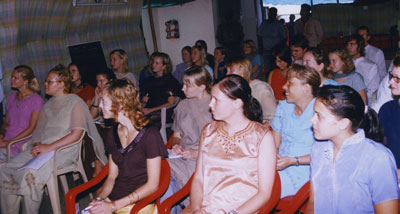 Umeå Social work students at Cauvery College for Women in Trichy.
Since 2007, two Indian students also come from Trichy to Umeå every year to stay for one semester. They are on Masters level, and study courses in the Masters programme on Social Work. The Swedish students who go the opposite way stay for 12 weeks in India, studying courses in CC's Masters programme in Social Work.
The formalised collaboration that now exists with the Cauvery College for Women has grown out from visits students have done and joint seminars carried out with Swedish and Indian students. Every year, Siv-Inger Bucht goes to Trichy herself, to plan for coming exchange visits and field studies. This is a precondition in order that the collaboration should work out smoothly.
The collaboration project has got continued funding for the period 2009-10. More information about the South Asia related Linnaeus Palme projects for 2009-10.

Some years ago, Siv-Inger Bucht also initiated an exchange project with an NGO in Sri Lanka named SERVE (Socio-economical, Ecological, Religious, Virtuous Empowerment), based in Moratuwa. Some students from Umeå went there to do fieldwork, but the collaboration ended because of administrative problems evaluating courses and diplomas.
SASNET's deputy director Lars Eklund visited the Dept. of Social Work on 10 December 2008. Read his report from Umeå University.