Postal address: Institutionen för Socialt Arbete, Socialhögskolan, Stockholms Universitet, 106 91 Stockholm
Visiting address: Sveavägen 160
Fax: +46 (0)8 674 73 50
Web page: http://www.socarb.su.se/
Collaboration with College of Social Work in Mumbai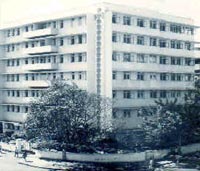 Through its International Unit, the Dept. of Social Work has been engaged in collaboration projects with universities all over the World, and also involved in a number of International developmental projects in the social sector, especially in Eastern Europe. In 2001 the department established a formal collaboration project with the College of Social Work (CSW), Nirmala Niketan Institute (photo to the right) in Mumbai, India, a college affiliated to the University of Mumbai. The project was funded by the Linnaeus Palme exchange programme, and involved exchange of both teachers and students between the two institutions. The person in charge of this Indo-Swedish collaboration project was Asst. Professor Lisbeth Beland Mehra, until she retired in 2007.
The contact person at the Indian side was Dr. Mary Alphonse, principal at CSW.
Ms. Prabha Tirmare is another senior Professor at Nirmala Niketan, and was the one who initiated the exchange programme between Stockholm University and Mumbai. She also visited Lund University in the year 2002. At Nirmala Niketan, she teaches subjects like "Children In difficult Situation" and "Marginalised groups in Indian Society". In 2008 she published a paper on "Violation of Human Rights of Dalit Women: Issues, Factors and Concerns". Read the paper(as a pdf-file).
For several years, the Swedish students carried out field work for a semester at Nirmala Niketan, including five weeks theoretical studies, and the Indian students have been offered the same in Stockholm. From 2004/05 three students came from each side, one of the Indian students is accepted for a Masters course. The teachers exchange consisted of three weeks stays in the other country giving lectures, holding seminars and supervising students.
As the department is also engaged in an exchange programme with an institution in South Africa a number of comparative seminars with Swedish, Indian and South African teachers were held.
The exchange students from India was very active during the academic year 2006-07, among them Swati Kamble.
A series of events were organised during the Fall 2006, such as a movie screening as well as discussions and a seminar on the atrocities carried out against Dalits in India. On the occasion of Dr. Ambedkar's (the architect of the Constitution in India) birth anniversary, a seminar was held at Stockholm University on 12 April 2007. A professor from Nirmala Niketan came and delivered a lecture. Two days later, on 14 April 2007, the students organised a manifestation in central Stockholm in collaboration with the Dalit Solidarity Network – Sweden. More information (as a pdf-file).
The College of Social Work (CSW), Nirmala Niketan is also engaged in a fruitful research collaboration with the Violence Against Women Research Group (VAWRG), University of Bristol, UK. A joint research project on "Domestic Violence in India and the UK: Understanding Domestic Violence against Women & its Management across Cultures" has been carried out, a project in which Mary Alphonse has been involved.
CSW also organised an International Social Work Conference on "Community Care and Support for Persons Living with HIV/AIDS: Challenges for the New Millennium" in Mumbai 7–9 December 2004. The Conference was an attempt to get together professional social workers, practitioners in the field, NGO representatives etc. from different countries, on a common platform so as to deliberate on this vital issue of Community Care and Support for Persons Living With HIV/AIDS (PLWHA).
International Conference on Children and Residential Care
In May 2003 the Department of Social Work organised the Second International Conference on "Children and Residential Care – New Strategies for a New Millennium" with many South Asian participants, especially from India and Sri Lanka. The conference, focusing on how to improve the situation for children staying at institutions, was attended by 600 delegates from 70 countries. A so-called Stockholm declaration on Children and Residential Care was passed at the end of the conference, that was co-hosted by the International Council on Social Welfare, ICSW, and Unicef. The Stockholm conference was preceded by national conferences in nearly 40 countries, during which country reports on the situation for children staying at institutions in the respective country were prepared.