Postal address: Mittuniversitetet, Institutionen för samhällsvetenskap, 831 25 Östersund, Sweden
Visiting adress: Kunskapens väg 1, Hus P
Web page: http://www.miun.se/en/About-Us/Organisation/Departments/SHV/
Ongoing research connected to South Asia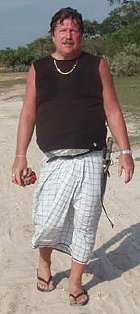 Associate Professor Staffan Öhrling defended his doctoral dissertation in 1977 on "Rural Change and Spatial Reorganisation in Sri Lanka. Barriers against development of traditional Sinhalese local communities" at the Dept. of Human and Economic Geography, Göteborg University. It was published as a book by the Scandinavian Institute of Asian Studies (Copenhagen) & Curzon Press (London).
In 1988 he made an evaluation Report on "Facts behind figures. An attempt to reveal some additional reality about planned rural development in Matara District, Sri Lanka" for Umeå University; and the following year he also wrote a reseach report on "Futures of Peasant Agriculture in Sri Lanka" (also at Umeå University).
In 1997, the Mid Sweden University established a research institute engaged in the development and transfer of knowledge of tourism and travel. It is named ETOUR (European Tourism Research Institute).
More information.
Between 1997 and 2004 ETOUR was financed by the EU Structural Funds and national co-financers, such as the Ministry of Industry, the County Administration Board and the Mistra Foundation.
Tourist hotel under construction in Odayam, southern Kerala. Photo: Lars Eklund
Dr. Öhrling has been involved in this research on torism. Among other things, he has studied the growth of Ecotourism in the state of Kerala in Southwestern India. A project by the name Thekkady Tiger Trail was launched here in the 1990's in the sanctuary of Periyar. Öhrling evaluated this project from a field perspective in an article published in 2001, called "From Environmental Exploiters to Enthusiastic Protectors? An insight into an awarded ecotourism programme in Kerala, India".
At Mid-Sweden University Staffan Öhrling has coordinated a comparative, interdisciplinary research programme with the title "Sustainanable Tourism Development and Carrying Capacity in three Selected Destinations – the High Coast of Sweden, the island of Crete and South Kerala, India". The programme, involving nine participants, of which seven are academic professionals, is focused on research about positive and negative effects of tourism. This relates both to mass tourism and more specialized types of tourism with less visitors in relation to potential capacity of a local destination.
Studies of the relationship man-environment-society and its change over time, is of basic importance for this programme. Environmental issues and sustainability of human and natural resources in selected destinations are focal problems under investigation, and for this purpose models are constructed that should give both practical applicability and provide foundations for planning and decisions. For each of the three destinations, local attractions and establishments have been selected and divided in three categories according to environmental sensitivity. The research programme consists of three projects, with very similar design, for each of the selected destinations.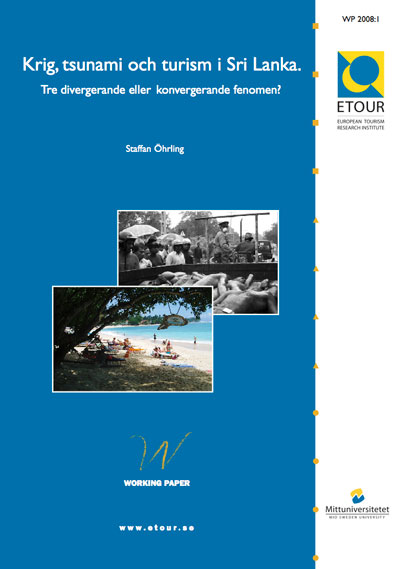 From 1998, Dr. Öhrling again highlighted on Sri Lanka, a country he has studied continously since his first visit to the country in 1968. From 2004, he spent five periods in the country, then ravaged by war and severely affected by the Tsunami catastrophy.
For some period he was formally connected to University of Colombo, and got support in the form of a research assistant.
In 2006, he published an article on Sri Lanka entitled "Same culture – Different life paths? Contrasts and similarities in socio-geographic development of two Sinhalese local communities 1972-2005" in the Norwegian Journal of Geography.
The article is a review over 33 years of two villages in Sri Lanka, Bundala and Panapola Pelawatte. The two villages are located in two contrasting climatic regions, the Dry Zone of the lowland region in the south-east, and the Wet Zone of the southern hill country. The climatic differences have been considered to influence preconditions for development, especially for agriculture. The article reviews changes from 1972 to 2005 in the two villages and compares this with development in Sri Lanka as a whole. Development in the two villages, located in relatively backwash areas, was assumed to be lagging behind the rest of the country. Somewhat surprisingly, conditions in recent years were found to have improved considerably in Bundala and Panapola Pelawatte, even compared with the rest of the country, in spite of the relative isolation of these communities, and the article provides some explanations for this. More information about the article.
In 2008, the European Tourism Research Institute/Mid Sweden University published a working paper entitled "Krig, tsunami och turism i Sri Lanka. Tre divergerande eller konvergerande fenomen?" (War, Tsunami and Tourism in Sri Lanka. Three diverging or converging phenomena?). If focuses on the fact that mass tourism could continue in Sri Lanka more or less undistured in spite of decades of constant civil strife. Read the full paper.
Dr. Staffan Öhrling retired from the university in January 2011.